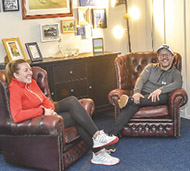 First of all, may we take this opportunity to wish all of our members and your family's a very happy and prosperous New Year. Since Lisa and I took over as Head Pros, we have all had a very strange 2 years with everything that has been going on, but we have nothing but gratitude to you all in your support towards us. With various challenges along the way, we have always tried to be there to offer our support at the club to help you with any of your golfing needs.
So now as we enter into 2022 I feel very optimistic about the year ahead, and can see light at the end of this long tunnel we have been going through. We look forward to spending more happy times together at the club this year.
As always if there is absolutely anything Lisa, Paul, Marie or I can do to help you enjoy your golfing experiences more, then please just give us a shout.
Why not pop into the shop from this Sunday 9th to take a look at what's on offer in the Pro shop January sale, where I am sure you could pick up a bargain or two.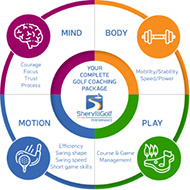 Lisa and I are looking forward to another great year on the range helping golfers with their games. We are extremely passionate about continuing to grow our Junior Golf coaching program, where we have over 40 children learning and loving taking part in golf. These children are growing into junior members of the club, and developing great skills both in their game and their social skills around the golf club. If you have a son or daughter and they are interested in taking up some golfing fun, then please have a chat with Lisa or I in the shop or give us a buzz.
Another coaching project we are extremely passionate about is our Battle Back Golf Program we operate for our service personnel, who have either been injured physically or mentally whilst in service last year. We delivered our Golf and Wellness Program to 384 participates from all over the world, from as far afield as Nepal to the length and breadth of the UK. My connection with Battle Back has been a relationship over 7 years, and we thank all of our members who extend a warm welcome to them when they visit us at the club for their golfing experience.
January is a great month to make improvements to your game as we still have 3 months before the season starts and one of the key things you can be doing at this time is getting back to basics and really focusing in on your fundamentals of Aim, Hold and Posture. The one I am going to focus on here is Hold. Most Golf Pro's refer to this as "The Grip" and how to grip the golf club, but I much prefer to use the word Hold. This is because if you were asked to grip something you would have tension in your hands and arms. If you gripped the club like this it would lead to a lack of freedom in your movement as you try to swing the golf club, which ultimately decreases your club head speed.
So next time you go to the practice ground, or to the course, HOLD the club (if 10 was strangling the club and 1 was dropping the club, aim for 4 or 5 on that scale) with less tension in the hands, and you will ultimately FEEL the difference it makes to your ability to SWING the golf club with more freedom. This will increase your clubhead speed with less effort. A real Win Win tip that we are all capable of. If you see me at the club then please ask me to take a look at the way you hold the club, and I will give you some time so you can FEEL the best way for you to HOLD the club.
Tip for helping the Tip – If your grips are a little slippery, then try to clean them with hot soppy water to make them tacky again, or treat yourself to some new grips. Pop into the shop and we can re-grip your clubs for you.
From Saturday 15th January to Saturday 19th of March we will be running the Pro Shop Winter Weekend League. All you need to do is come into the Shop, pay your £1 entry fee per round and then post your stableford points scorecard in the pro shop. We will then keep a league table through the winter with your top 5 scores, counting out of the possible 9 weeks of the league.
The league winner will receive 60% of the pot at the end, with 30% going to 2nd and 10% going to 3rd place. This is paid onto your shop account so you can treat yourself to something nice. The Pro Shop Winter League is open to all players: Men, Women and Juniors, and will be played off a course handicap. Winners of each week will be cut by 2 shots, and 2nd places will be cut by 1 shot. It should be a good way to have a fun competition with your friends up at the club.
Happy golfing and here's to many birdies,
Mark, Lisa and the Pro Shop Team