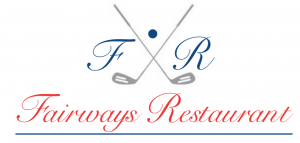 The Fairways Restaurant at Lilleshall Hall Golf Club always aim to provide high quality food, ranging from freshly made sandwiches to fine dining menus, combined with excellent service.
The Fairways Restaurant has been catering for members of the Golf Club for a long time, and we look forward to welcoming many more from Newport and surrounding areas.

Our catering team is headed up by Richard and Tracey Moores
Feedback is welcomed too, ask the Bar staff for the "Comments Book" and please treat all staff and volunteers with courtesy at all times. Sue Parker, Nick Savchenko and Roger Bates would like to say many thanks for all your wonderful and continuing support
Richard
Early years
Brought up in Kelsall, Cheshire Richard took an interest from an early age in baking and cooking alongside his Mum in their kitchen. By the time he left Secondary school there was only one career and he headed for the Mid-Cheshire College where he qualified with a City and Guilds. He was also the owner of a low powered moped – more of that later !
Career building
After jobs in the Midlands, Yorkshire and Scotland – learning his craft all the while alongside AA Rosette chefs and a Head Chef trained by the Roux brothers he became Head Chef at the Falcon[now the Old Orleton],Wellington in 2000.
During these formative years Richard was the proud owner of a Kawasaki 500 Eliminator complete with "Cow Horns" handlebars and thought the local pack of Hell's Angels were a "good bunch of guys"!
Favourite dish
Chicken breast stuffed with Brie and Spinach
Family nickname
"God of Tolerance"
Tracey "The Boss"
Early years
Born in Shrewsbury but brought up in Telford Tracey emerged from Abraham Darby school with 8 GCSE's. From there it was the Hollies Catering college qualifying with a City and Guilds. Her first job was at the beautiful Valley Hotel in Ironbridge as a Trainee Chef taking a great interest in the Desserts – watch this space.
Career building
After meeting at the Falcon Tracey and Richard married – 7 children later[yes that is 7]! If that wasn't enough for Tracey in no time at all she had launched The Cakeshack. This was her own business which ran for a number of years making bespoke Cakes for every sort of Special Occassion. "Claim to Fame" being stopped by the police for going suspiciously slow – explained they were carrying a very delicate cargo – not children – A Cake ! – not charged.
Favourite Dish
Tiramisu and/or Cheescake – both available on Sunday lunches.
Spare time
Growing vegetables and herbs in the garden and just occasionally watching "Homesteaders" on You Tube.
P.S. Tracey worked as a Chef for some time at Wrekin Golf Club and despite this experience she is still, "Passionate about making people happy" and that incudes golfers I believe.
Private Parties
The Clubhouse is also available for private parties throughout 2022. This can be booked with or without catering. Please contact honsec@lhgolfclub.co.uk or call our Chef on 01952-604776 Option 5 for further details.
The Fairways Restaurant can also accommodate for Wakes, please get in touch to find out more.