The junior golf section of Lilleshall Hall Golf Club is strong and currently carrying on the tradition of being one of the leading junior sections of the Shropshire and Herefordshire Union of Golf Clubs. Our Junior section has been growing year on year.
For many years we have been providing junior golf players to the Shropshire & Herefordshire Union of Golf Clubs County junior team and currently have four players regularly playing for the County Junior Golf team. This is great honour for the players and the Golf Club.
All children from age 8 to 18 are invited to join our club the junior golf membership fee is very competitively priced. Parents are invited to view and observe the coaching that is carried out. All members involved with junior coaching are DBS registered.
For more information and the pricing of our Junior coaching, please click here.
News from Lilleshall Juniors
Rory McDonald-O'Brien competed in the England U14 Reid Trophy at Manchester Golf Club 8-10th August
In a very strong field of 144 international players ( 21 countries represented ) Rory finished 4th winning a voucher and achieving his aim of finishing as the top England player!
England golf did a press article on Rory as he was there leading player (see photo below )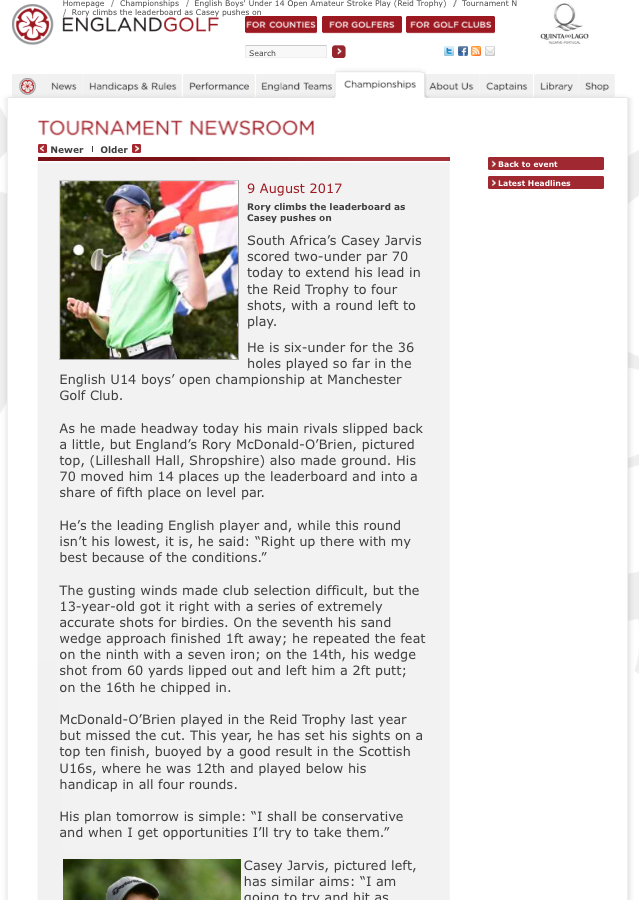 We think he's the 1st person in Shropshire and Herefordshire to finish as high as 4th place in the England u14 championship.
His rounds were :-
Day one 74 ( 2 over par)
Day two 70 ( 2 under par )
Day three 74 ( 2 over par)
He is now been cut to 1.8 handicap At the age of 13 this is an amazing achievement and Charles Seivewright the county junior organiser was very pleased and says Rory is the lowest handicap Shropshire has had at under 14 age group!
All the other information about the rounds and scores and players and write up is on the England golf website