April News from the Pros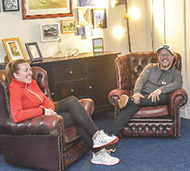 April is one of my favourite times of the year, as it sees the start of the golfing season and the Masters tournament at Augusta National. What a win we saw from world number one Scottie Scheffler, whose magnificent golf gave him the chance to take 4 putts on the last to win the green jacket. I hope that this season is your best yet and like always, if there's anything we can do to help we are always here.
Pro Shops Winter League Table Winner
Congratulations to our first winter league winner Paul Totty, who won the playoff with a very strong 18 points! In 2nd place was Paul Bird and 3rd place Graham Lindley, in what was a great winter Series that had many changes on the leaderboard throughout. Winner Paul Totty won £50 with 2nd place Paul Bird winning £20 and 3rd place Graham Lindley winning £10.
The NEW Pro Shop Summer Slam Series
Due to the popularity of the winter league, we would like to launch the Summer Slam Series. To enter, all you have to do is come into the shop and pay your £1 entry fee, where you can enter one card per week on any day you chose for the stableford points league table. The Summer Slam Series will run from 1st May – 1st September.
A Positive Start to Lisa's Season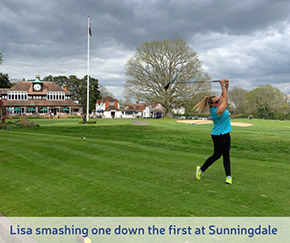 It has been a great start to Lisa's season with a 22nd place finish at West Lancs, followed by a 7th place finish in the Gold Cup at the Roehampton Club. Lisa then travelled to her favourite course Sunningdale, for the next Rose series event. Despite some good shots, she forgot to pack her short game for this trip and finished 41st. Lisa has now played Brokenhurst Manor and unfortunately taking bogey on the last two holes she dropped from 4th place to 14th but again Lisa was very happy with further positive steps in the right direction as she now looks forward to Walton Heath again on the Rose series on Monday 25th. I also start my season this month at Little Aston on Friday 29th for the English PGA qualifying, so you'll be sure to see me at the range getting ready for that.
Coaching
Our Junior Program keeps going from strength to strength. Throughout the summer months we are moving to week nights for coaching sessions, so that our juniors will have the chance to get out on the course and start honing their new skills.
We held our Annual Easter Egg Cup on Easter Sunday afternoon. Our junior golfers were joined by Mum, Dad, or one of our lovely members, to play in a foursome's event where they had a certain amount of shots to get their egg the furthest around the course. Ella and her Grandad, Graham (in the photo here), won the day by holing out with their last shot on the 9th hole.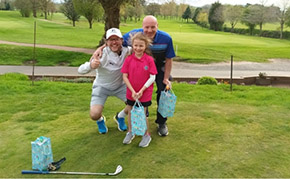 ---
Free MAKE MORE PUTTS Putting Session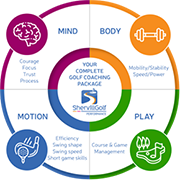 On Wednesday the 27th I will be on the putting green for a Free MAKE MORE PUTTS putting session, where I will help you move into the season with a spring in your stroke. All you have to do is pop in or phone the Pro Shop to book your place. We are always here to help you with your game, so please get in touch if you fancy a lesson to see how we could help you improve your golf.
---
Pro's Tip of the Month
As we start to head out to play competitive golf, I would like to discuss what I term as "the glue of the golf swing": TEMPO. Too often when I am on playing lessons with my students, I see a change in their tempo from what I would normally see from them on practice ground. This is not just in their swing, but in their overall manner and pace on the course. When we get a scorecard in our hands, we can subconsciously either speed up our swings and our routines, or we can even slow down and be too conscious of everything. This makes us lose our natural flow and energy in our game. TEMPO is a key ingredient to playing your best, and having a routine that you can trust on every shot really helps. This will help you approach every shot with the correct attention on your intentions. So next time you go out, place your focus on your TEMPO, and swing the club with a flow of energy that will hit the shots you desire more often.
If you want to explore this further and discover the best routine to help you, then please pop into the shop to have a chat our give us a buzz.
---
Pro Shop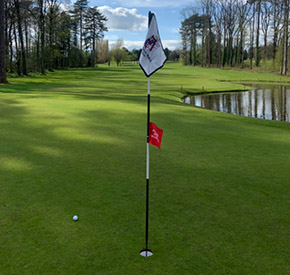 We always try to provide our members with a nicely stocked shop for anything you need, and we can order in particular items through our membership with Foremost. This allow us access to all major brands, whilst being able to price match any of the leading stores.
The course is starting to look it's best, the weather is warming up and the season is getting into full swing.
---
We can't wait to see you all up at the club soon, having fun and enjoying your game.
Mark, Lisa and The Pro Shop Team